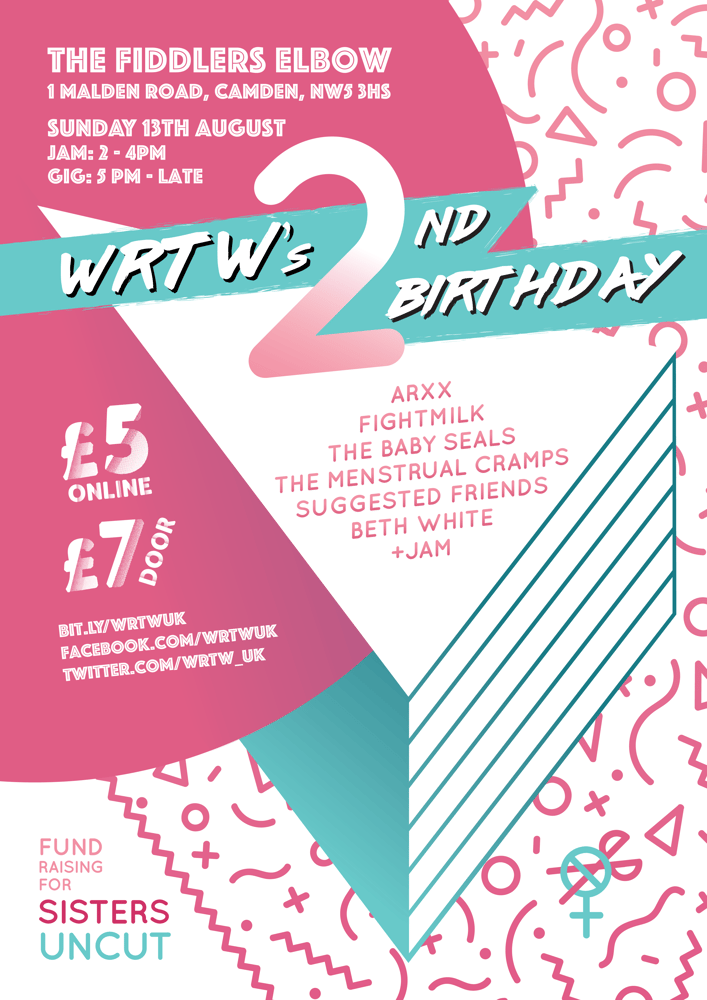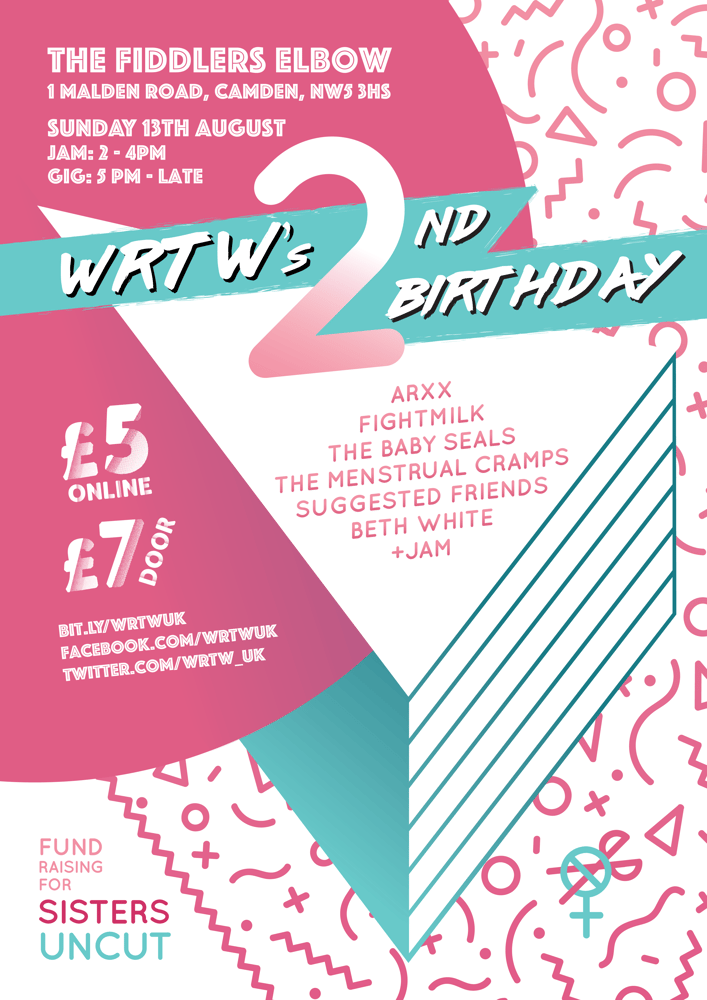 Who Run The World's 2nd Birthday
£5.00 / Sold Out
ONLINE TICKET SALE FINISHED - Entry available on the door at £7
- IMPORTANT TICKET INFO BELOW -
Sunday 13th August 2017 is our 2nd birthday! LIVE at The Fiddler's Elbow, Camden.
Join us in celebrating two outstanding years of supporting London's women in music.
🎈🎈🎈🎈🎈🎈🎈🎈🎈🎈🎈🎈
DOORS:
2 - 4pm: JAM
5pm - late: GIG
TICKETS: £5 online / £7 OTD
🎈🎈🎈🎈🎈🎈🎈🎈🎈🎈🎈🎈
LINE UP
🎉 ARXX 🎉
https://www.facebook.com/arxxband
ARXX are a Garage Rock duo based in Brighton, who broke on to the scene early 2014. Clara and Hannah marry together an eclectic range of influences stemming from punk, blues, soul, and garage rock.
🎉 Fightmilk 🎉
https://www.facebook.com/fightmilkisaband
Sweaty pop for indie schmucks. "Imagine a power pop four-piece fronted by Arya Stark."
🎉 The Baby Seals 🎉
https://www.facebook.com/thebabyseals
Parody Punk Empowerpop from Cambridge.
🎉 The Menstrual Cramps 🎉
https://www.facebook.com/TheMenstrualCramps
Riot Grrrl trio hailing from London, smashing the patriarchy one track at a time!
🎉 Suggested Friends 🎉
https://www.facebook.com/suggestedfriends
Twee pop emo punks whose influences include poor decisions & trivial disappointments.
🎉 Beth White 🎉
https://www.facebook.com/BethWhiteUK
Catchy punky acoustic tunes.
🎈🎈🎈🎈🎈🎈🎈🎈🎈🎈🎈🎈
Proceeds for this show will be donated to Sisters Uncut - North London. More details:
http://www.sistersuncut.org
TICKET INFO
We'll receive an email with your name once you've purchased your ticket online - all you have to do is rock up! We'll accept a paper or phone confirmation of your ticket on the door.